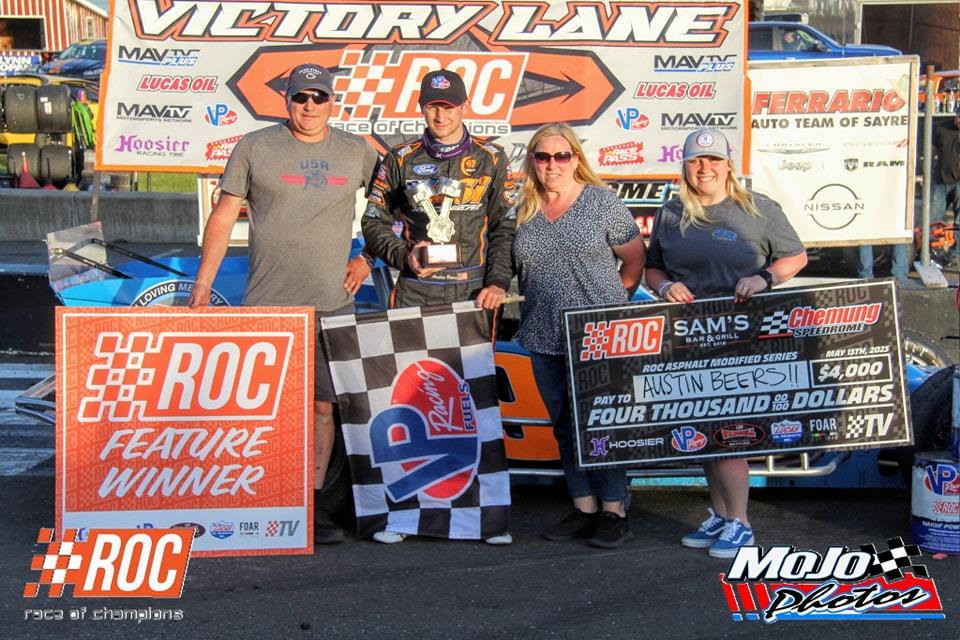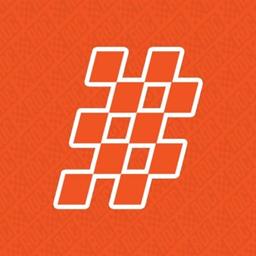 5/15/2023
Race of Champions
---
AUSTIN BEERS SCORES FIRST-EVER RACE OF CHAMPIONS MODIFIED SERIES VICTORY AT CHEMUNG SPEEDROME IN SAM'S BAR & GRILL "75"
Austin Beers from Northampton, Pa., became the most recent winner of a Race of Champions Modified Series event after he drove to victory lane this past Saturday at the Chemung (NY) Speedrome.
Beers started in third and took the lead on lap 6 and survived several restarts and challenges from Daren Scherer of Binghamton, NY and Zane Zeiner of Bath, Pa., before he reached victory lane.
"We had a good car today, it was a wild one," offered Beers. "This track can be tough and it bit some people today. It's just great to finally get our first Race of Champions victory and driving my Dad's car of course, this is just awesome. I have to thank everyone involved for helping and making this possible."
Scherer led in the early going after drawing the pole with Beers and the Series most recent winner Jack Ely of Wall, NJ, giving chase.
Beers and Ely would eventually work around Scherer and battle for the top spot, before Ely had engine woes.
Zane Zeiner, who started 7th had an eventful day, working his way back into contention after going a lap down and using multiple caution periods to work on his car and drive his way back into contention. Zeiner took one shot at Beers, but the caution waved and Zeiner could not work his way around Beers at the finish.
Scherer ended up third. Trevor Catalano of Ontario, NY wound up fourth while Jimmy Zacharias of Owego, NY, rounded out the top-five.
Zacharias, Andy Jankowiak of Buffalo, NY and Zeiner won the qualifying races. Jankowiak posted the fastest lap in green-white-checker qualifying.
Defending Race of Champions FOAR Score Four Cylinder Dash Series champion, Nick Robinson of Waverly, NY, scored the victory in the Series opening event. Robinson took the lead early in the 20-lap event from Trisha Connolly of Palmerton, Pa.
Robinson went on to the victory over Joey Bevacqua of Rome, Pa., and Connolly. Robinson and Connolly won the qualifying races.
Full results from the Sam's Bar & Grill "75" for the Race of Champions Modified Series can be found here;
Race of Champions (rocmodifiedseries.com) www.rocmodifiedseries.com/schedules/event/463149
The Race of Champions is a sanctioning body presenting Modified and Stock Car racing on asphalt and dirt surfaces throughout the Northeast, with events in New York, Pennsylvania and New Jersey with primary marketing partners Hoosier Racing Tire, VP Racing Fuels, Lucas Oil Products, MAVTV, MAVTV Plus, Airport Collision, Rocket Performance, Waddell Communications, Image X Design, Sherwood Racing Wheels, DirtTrackDigest.com and Speed Sport. The 72nd and 73rd annual Race of Champions weekend will take place in 2023 at Lake Erie Speedway in North East, Pennsylvania and is the second longest consecutive auto-racing event in North America, second only to the Indianapolis 500.
For more information, contact;
Race of Champions Media at media@rocmodifiedseries.com
Follow us on Twitter; Instagram and Facebook; @RoCModSeries or visit our website: www.rocmodifiedseries.com
Article Media
Back to News