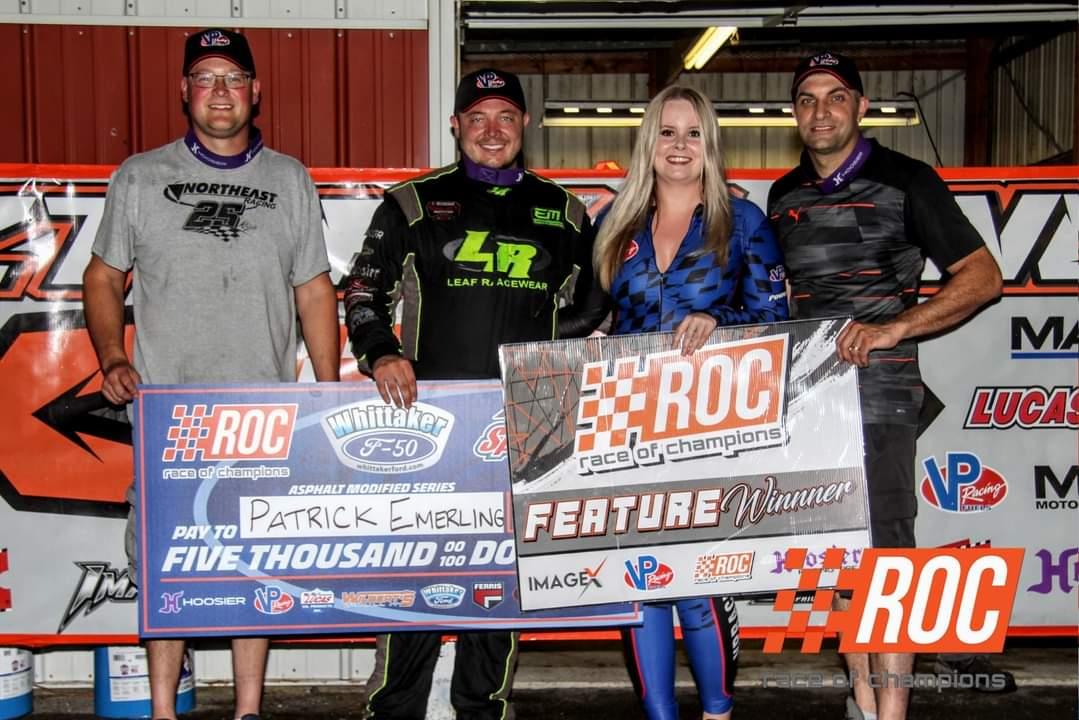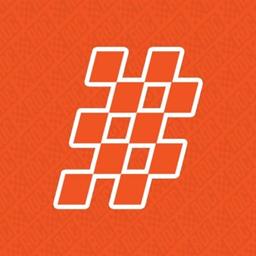 7/3/2022
Race of Champions
---
PATRICK EMERLING RUNS TO RACE OF CHAMPIONS MODIFIED SERIES WIN IN $5,000-TO-WIN BILLY WHITTAKER FORD "F-50" AT SPENCER SPEEDWAY
Patrick Emerling of Orchard Park, N.Y., captured the "rain-shortened" Billy Whittaker Ford "F-50" this past Friday evening in Williamson, N.Y., at Spencer Speedway after the race was halted on lap 36 by a substantial downpour. It was the first time, since prior to 2016, that the Race of Champions Modified Series had to end a race early due to inclement weather.
"Joe Steans, Billy Putney and this Advantage Motorsports Team gave me a very fast race car," stated Ermerling following the race. "The car was fast off the trailer and we had things going good. We had a good heat race and a great draw. Things went our way tonight, we wish we could have run all of the laps, but the rain came and ended things early, we will take it."
Zane Zeiner of Bath, Pa., drove from 9th to 2nd with Mike Leaty of Williamson, N.Y., driving from 7th to finish 3rd.
Roger Coss of Lafeyette, N.J., finished 4th with Amy Catalano of Ontario, N.Y., rounding out the top-five.
Leaty, Zeiner and Daryl Lewis, Jr., of Ontario, N.Y., scored qualifying race victories. Emerling turned in the fastest overall time during timed hot laps.
Full and comprehensive race results may be found here; www.rocmodifiedseries.com/schedules/event/406251
The Race of Champions FOAR Score Four Cylinder Dash Series; Race of Champions Rocket 602 Sportsman Modified Series; Race of Champions Super Stock Series and Wilbert's U-Pull It all completed qualifying, however their respective features were postponed. The FOAR Score Four Cylinder Dash Series; Rocket Performance 602 Sportsman Modifieds and Wilbert's U-Pull It Super Sixes will run double-features and complete their programs on Friday, August 5, while the Super Stock Series will finish their program with double-features on Friday, August 19.
The next race for the Race of Champions Modified Series is Saturday, July 30 with the 33rd Annual running of the Tribute to Tommy Druar and Tony Jankowiak.
The Race of Champions is a sanctioning body presenting Modified and Stock Car racing on asphalt and dirt surfaces throughout the Northeast, with events in New York, Pennsylvania and New Jersey with primary marketing partners Hoosier Racing Tire, VP Racing Fuels, Lucas Oil Products, MAVTV, MAVTV Plus, Airport Collision, Rocket Performance, Waddell Communications, Image X Design, Sherwood Racing Wheels, DirtTrackDigest.com and Speed Sport. The 72ndt annual Race of Champions weekend will take place in 2022 at Lake Erie Speedway in North East, Pennsylvania and is the second longest consecutive auto-racing event in North America, second only to the Indianapolis 500.
For more information, contact;
Race of Champions Media at media@rocmodifiedseries.com
Follow us on Twitter; Instagram and Facebook; @RoCModSeries or visit our website: www.rocmodifiedseries.com
Back to News