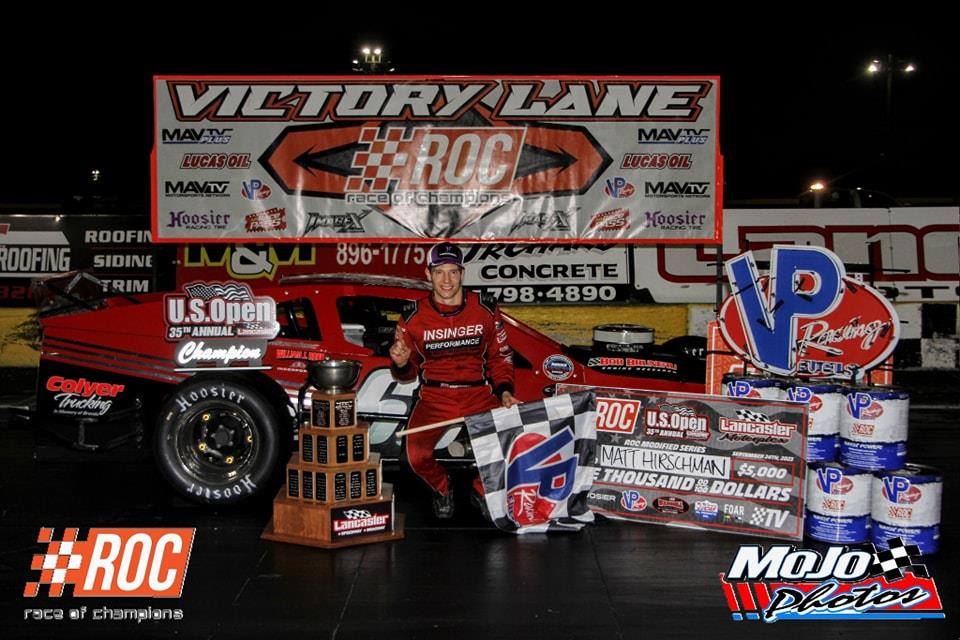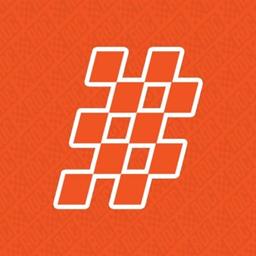 9/26/2023
Race of Champions
---
MATT HIRSCHMAN EARNS SECOND RACE OF CHAMPIONS MODIFIED SERIES VICTORY OF 2023 WITH WIN IN THE 35TH ANNUAL US OPEN AT LANCASTER MOTORPLEX
The Race of Champions Modified Series concluded it's season this past Sunday at Lancaster (N.Y.) Motorplex as the grand finale of the 35th Annual US Open. The race was delayed by weather, a seemingly constant theme of the 2023 season.
Matt Hirschman of Northampton, Pa., who started 11th, used strategy and a strong racecar to reach victory lane Sunday evening.
"We had a good car," beamed Hirschman from victory lane. "It was a challenging race, it wasn't easy. The competition on this Series is incredible. Patrick (Emerling) was coming. The different tire strategies played into it today and so did the weather. We are just proud to be in victory lane. Thank you to my team and my family for helping to get me here."
Emerling started 10th and finished 2nd.
Andy Jankowiak of Tonawanda, N.Y., who started 3rd led much of the race after a daring three-wide pass for the lead early in the going finished 3rd with a broken right front shock absorber.
Jake Lutz of Hamburg, N.Y., and Tony Hanbury of Owego, N.Y., rounded out the top-five.
Zane Zeiner of Bath, Pa., started 12th and finished 6th, but claimed the 2023 Race of Champions Modified Series championship.
"We had an incredible year," stated Zeiner following the race. "Things just seemed to go our way. It was a fantastic season for us. I have to thank everyone who helped get us here. It was an incredible run."
Lutz, Hirschman and Jankowiak won the three qualifying races with Lutz posting the fastest time in green-white-checker qualifying.
Full results from the 35th Annual US Open can be found here; www.rocmodifiedseries.com/schedules/event/459909
The final race of the 2023 season for the Race of Champions Family of Series will be at Wyoming County International Speedway on Saturday, October 14 as the conclusion of the "Fall Shootout" including the Race of Champions Sportsman Modified Series; Race of Champions Super Stock Series; Race of Champions FOAR SCORE Four Cylinder Dash Series and the Race of Champions Rocket Performance 602 Sportsman Modified Series.
Race of Champions management also announced the dates for the 2024 Race of Champions weekend, which will be Friday, September 13; Saturday, September 14 and Sunday, September 15, 2024.
The Race of Champions is a sanctioning body presenting Modified and Stock Car racing on asphalt and dirt surfaces throughout the Northeast, with events in New York, Pennsylvania and New Jersey with primary marketing partners Hoosier Racing Tire, VP Racing Fuels, Lucas Oil Products, MAVTV, MAVTV Plus, Airport Collision, Rocket Performance, Waddell Communications, Image X Design, Sherwood Racing Wheels, DirtTrackDigest.com and Speed Sport. The 72nd and 73rd annual Race of Champions weekend will take place in 2023 at Lake Erie Speedway in North East, Pennsylvania and is the second longest consecutive auto-racing event in North America, second only to the Indianapolis 500.
For more information, contact;
Race of Champions Media at media@rocmodifiedseries.com
Follow us on Twitter; Instagram and Facebook; @RoCModSeries or visit our website: www.rocmodifiedseries.com
Article Media
Back to News